Reverse Osmosis Systems
As water issues become more of an important factor in the global climate, even more people are looking to do their part for the environment. While 75 percent of our world is covered in water, only 1 percent of that water is suitable for human consumption. Learn how reverse osmosis systems from EcoWater can make your home water healthier, save money and energy, and be better for all of your home needs.
Water by the Numbers
85 percent of households in North America have issues with water. Even more stunning, 60 percent of potential contaminants in water are not currently regulated by the Environmental Protection Agency. Installing a reverse osmosis system simply provides you peace of mind in knowing that you're helping to remove possibly harmful contaminants from your water supply.
Reverse Osmosis Systems
In the home, a reverse osmosis system is generally used as a water filtration system for drinking water. These devices are plumbed into your water system and are over 90% effective at removing impurities from your water supply. EcoWater reverse osmosis systems are EPA-certified to remove water impurities and make your water safer to drink.
EcoWater Solutions
EcoWater is an industry leader and one of the largest manufacturers of water treatment systems in the entire world. Our innovations have been game-changing in the industry, and we are backed by an international network of expert specialists who provide specialized solutions that are custom-tailored to meet your exact needs, from installation to scheduled maintenance.
We use the most advanced technology and consistently earn the highest quality ratings in the industry. We are eco-friendly and take pride in providing products that are designed to suit your lifestyle whether you're a young professional, family residence or a retiree enjoying your golden years.
For more information, get in touch with us to answer all of your questions today.
EcoWater: Your Water. Perfected.
EcoWater HERO-385Plus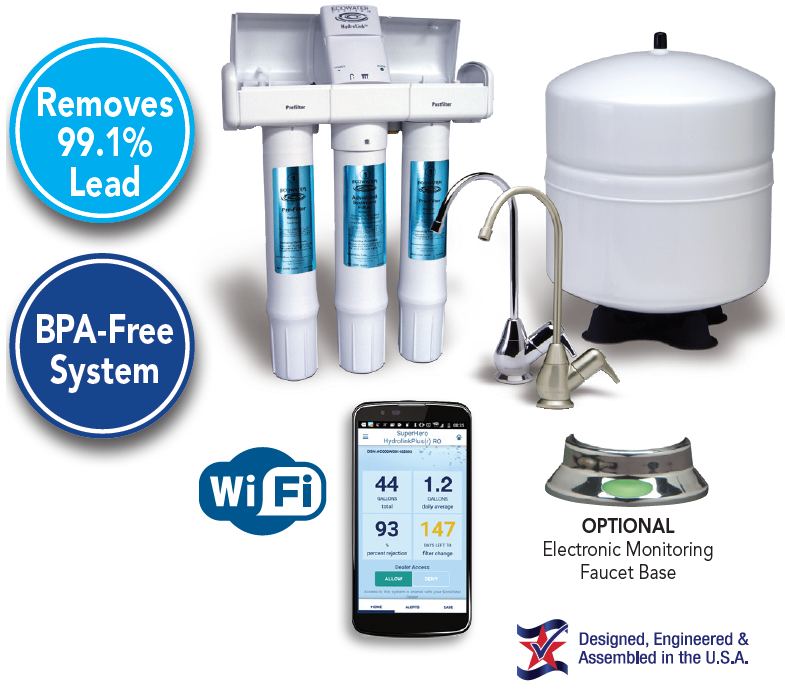 Reverse Osmosis (RO) drinking water systems provide high-quality water for worry-free drinking or cooking. This state-of-the-art filter will improve the quality of water from wells or municipal water supplies.
Here's How an RO Works:
Household water is directed through a prefilter for filtration to remove sediment, chlorine taste and odor, and particulate matter.
The water is then forced, by pressure, through a semi-permeable membrane where a high percentage of the dissolved solids, etc. are rejected and flushed to the drain.
Filtered water is reserved in the storage tank until needed. An activated carbon absorption block filter that removes tastes and odors polishes the water immediately before going to the faucet.
Features:
Patented HydroLink Plus® Wi-Fi enabled technology allows for the remote display of valuable product performance, alerts, water usage and filter life information.
50 gallons per day production rate, industry rated, high recovery 42% membrane.
(actual production rate will vary depending on water usage and conditions).
The filters are enclosed for cleanliness and ease of replacement.
Changing filters does not require turning off the water, a simple 1/4 turn of the filter shuts off the water and the filter is released at the same time.
Post-filter reduces PFOA, PFOS and VOC's.
Additional filter selections are available including alkaline.
Options:
Unique and elegant chrome or brushed nickel faucet styles.
Optional electronic faucet indicates when filters and membrane need to be replaced.
System is expandable if additional filters need to be added.
75 gallon per day membrane.
Adaptor kits are available to easily add a permeate pump system, which provides improved flow rates at the faucet.
For a list of the impurities reduced by the HERO-385Plus Series reverse osmosis systems, please contact your EcoWater Pro.
EcoWater ERO 175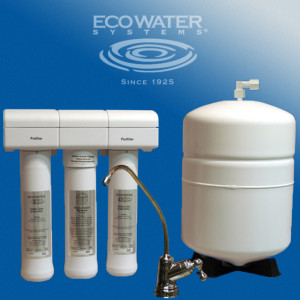 The EcoWater ERO 175 will provide bottled water quality in the convenience of your own home. No need to lift heavy bottled water. The EcoWater ERO 175 provides great tasting water for all your cooking and drinking water needs.The ERO 175 drinking water system will improve the quality of water from wells or municipal supplies alike.
Features of the ERO 175 drinking water purification system:
Three-stage filtering process: carbon sediment filter, RO membrane and a carbon post filter, polishing the water before you drink it.
Durable chrome-colored faucet.
NSF tested and certified.
EPS 1000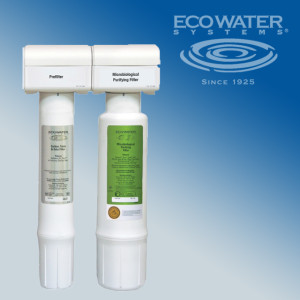 The EPS 1000 is a microbiological drinking water purification system certified to meet or exceed the Environment Protection Agency (EPA) requirement for the removal of bacteria, viruses and cysts such as giardia and cryptosporidia, without the use of ultra violet technologies. The EPS 1000 can be installed on both municipal and well water supplies.
Features of the EPS 1000 microbiological drinking water system:
Great tasting pure water for cooking and drinking, eliminating the need for bottled water.
Expandable system can be customized based on individual filtration needs for problem water.
Compact design with no storage tank saves valuable under-sink storage space.
No waste water during filtration process provides an eco-friendly drinking water filtration solution.
Fail-safe shutoff provides a sense of security regarding quality of drinking water.
Encapsulated replacement filters with sealed outer shell to ensure that every filter change is sanitary and dry.
High quality, elegant faucet available in two finishes.
Certified to reduce:

99.9999% bacteria
99.99% viruse
99.95% cysts
Ratings and Certifications:
Meets or exceeds the EPA requirement for the reduction of bacteria, viruses and cysts such as giardia and cryptosporidia, which are contaminants that are known to generate boil alerts for community drinking water.
Reduces 53 volatile organic compounds.
Reduces lead and chlorine taste and odor.
Contact Us Today
Schedule your In-Home Diagnosis, or request for Service
Email or Call (702) 485-3583